Perma-Link
Toronto is a city of many different neighbourhoods. If you want to buy computer parts then you go to Spadina and College, if you want Greek food you go to the Danforth. Today I went with Becky for an exploration of Little India and the Distillery District.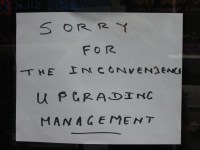 We used to live fairly closely to Little India, but despite its proximity we had only visited a few times, and then only to visit one or two of its restaurants in the evening. This time it was a Sunday afternoon on a long weekend (long live Civic holidays!) when almost all of the shops were open. I picked up a garlic chutney that I've not seen in ages, and had an excellent snack/lunch from one of the outdoor vendors. It was during our wandering that I spotted this amusing sign in the window of a closed shop.
The Distillary District is a recently renovated area filled with art galleries, restaurants, and several outdoor stages. We plan to go back because we didn't really have much time to look around, and there is easily a full days worth of things to see. The most impressive has to be the Sandra Ainsley Gallery which exhibits a collection of amazing glass work.