Perma-Link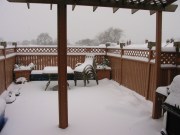 Winter is here – we have 15cm of snow on the ground at it's still going! It started yesterday around 4pm, and from the sight outside it doesn't look like it stopped at all. The transformation is incredible and magical. I love fresh snow, and although I know it's going to be cold and wet when we go out later, it's still a wonderful sight to behold.
The picture is the view out of the bedroom door onto the deck this morning (well around 11am!) The snow is still coming down as I type this, and it's not looking like it will ease up at all – the sky is a very light grey.
In other news I now have a crude RSS feed. It only contains the titles of posts and links to them, but it should be usable in your favourite news/weblog aggregator.