Perma-Link
I've not achieved a great deal in the last week. There's been socialisation, movie watching, and over the weekend some photography. Nothing earth shattering (you'd have noticed).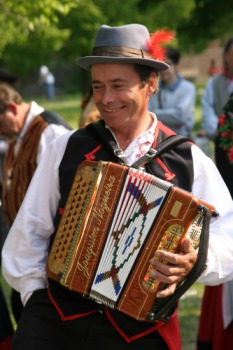 I bought a couple of books on photography: "National Geographic Photography Field Guide" and John Hedgecoe's "The new manual of Photography". I'm only part way through through the first of these, and so far its been an interesting read.
I had some prints developed on Thursday/Friday from a small shop called Korner Color. They managed to print half of them as is, but unfortunately they stretched the contrast on the others. This resulted in, for example, my Salute photo coming back with a white sky.
On a recommendation from Becky I'm going to try Toronto Image Works for some more prints. Hopefully their "uncorrected" prints include conversion from sRGB to their printer's colour space and no more.
The weekend photography consisted of a couple of trips to Trinity Bellwoods Park, and the 11th Annual Foklore Festival that makes up part of Portugal Week. The challenge was trying to determine the correct exposure, with late afternoon sun against brilliant white and black costumes.
—
I've updated my weblog links, removing those I no longer read, and adding some that might be of interest to others. I particularly recommend Sensitive Light for some excellent photographs.