Perma-Link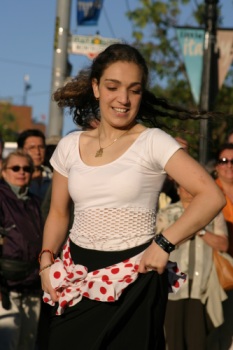 Watching Euro 2004 has been a challenge because of the time difference. Most games take place while I'm at work, finishing before I even head home. The ability to view TV on my mobile phone would therefore have been a useful (although I'm sure expensive) feature. As it is I caught the 2nd half today, saw England go out on penalties, and then came home to Little Portugal where a large celebration was underway.
On the techy side of things I have setup a mailing list for SimpleTAL. At the moment this list sets the gold standard in low traffic volumes: it has one subscriber (me) and no messages. If you're looking for a place to discuss SimpleTAL and related subjects (PubTal, etc) then please subscribe.
The picture on the right was taken during the Taste Of Little Italy festival last weekend. Despite the festival being about Italy, most of the music was South American. Of the bands that I heard my favourite was a Jazz band called Project Phoenix.