Perma-Link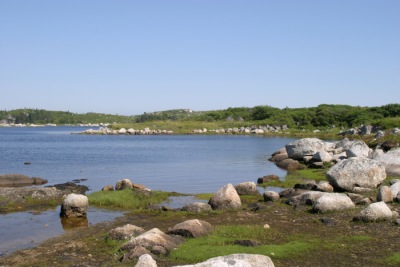 Over the last two weeks I've been travelling around central Nova Scotia. The last post I made described Halifax, and the only two days of poor weather that we encountered on this trip. On leaving Halifax we drove west along the coast en-route to Lunenburg.
The coastal road quickly led away from the heavily forested Halifax area into exposed moorland. Trees become rarer, interspersed by large areas of grass, shallow lakes and glacial boulders. It is a magical environment to drive through as the road weaves between lakes and boulders grace the horizon in all directions. I would need at least three photos to capture the feel of the place, but the first one in this post gives some idea of what it is like.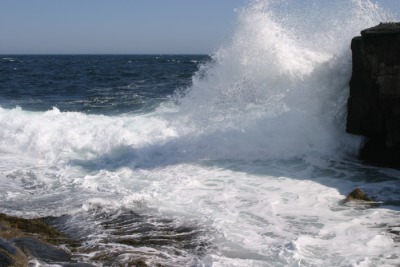 Although Peggy's Cove is a heavily visited destination I'm very glad that we joined the crowds. The main attraction is meant to be the lighthouse, but I didn't find that particular inspiring. We parked in the tourist information car park on the edge of the hamlet, rather than at the lighthouse. This was a good choice on our part as it allowed us to wander through the almost deserted marshy ferns and grasses towards the ocean.
Despite it being a very pleasant day the wind coming in at Peggy's Cove was fairly strong. Medium sized waves crashed enthusiastically against the shoreline sending spray many meters into the air. It was easy to gain a respect for the power of the waves coming in, especially on such a relatively calm day.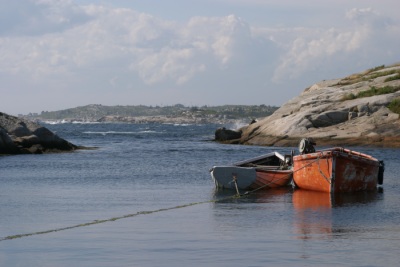 Only after seeing the rough seas crashing against an unforgiving coastline could I appreciate the small harbour at Peggy's Cove. The harbour is naturally sheltered in an amazing contrast to the area immediately surrounding it. The water is as calm as a small lake, with a handful of dinghy's moored alongside the odd fishing vessel.
After Peggy's Cover we continued on the coastal road all the way to Lunenburg, passing through numerous small towns and villages on the way. Although many were photogenic places we didn't have time to stop and wander around, and so could only admire them in passing.
My apologies to those reading this over a dialup link – I've tried to keep the in-line pictures small, but this post is still going to take a while to load.