Perma-Link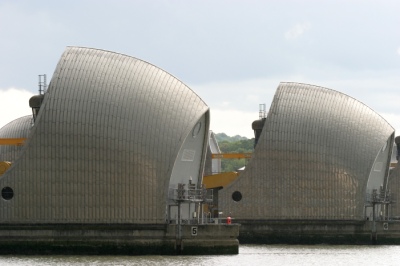 For the past two weekends running it's been wet and grey outside. Today was an exception – this afternoon the sky turned mostly blue and we had some warm sunshine in the slightly nippy air. I've been meaning to go down to the Thames barrier ever since we passed it on the way to London City Airport.
The Thames barrier has its own park and is easily accessible from the Pontoon Dock stop of the DLR. It's only twenty minutes or so from our flat, so I grabbed my camera this afternoon and headed that way. By the time I turned up the last of the sunlight was fading and a dark grey sky had formed. Within moments of me arriving at the bank of the Thames we had the first speckles of rain, followed shortly by lightening, thunder, hail and heavy rain. All of which is a long winded way of saying that I didn't get many shots of the barrier in a good light.
As the state of my journal shows I'm struggling to motivate myself into writing these days. I've got a few ideas for posts, mainly related to Agile and Offshore working practises, but haven't yet taken the time to pen them. Hopefully taking off next week will help – and let me get some good summer pictures around Toronto.
---
Image: Thames Barrier shortly before a downpour.